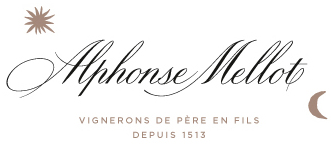 About Alphonse Mellot
At the beginning of the XIX century, Alphonse Mellot founded a tavern in Sancerre where one could savour the local wines and so began a flourishing trade that was to continue. In 1881 he was granted a licence to ship his wine throughout France and all over the World. This marked the beginning of a pacific conquest which has been pursued and developed by the family business from father to son ever since, with the eldest son continuing to bear the name of the Founder Alphonse. Today, this century old winemaking tradition is perpetuated by Alphonse Mellot, father and son, the 18th and 19th to bear the name.
The wines are produced from the upper Sancerre vineyard, the most famous of which is the « Domaine de la Moussiere». Its exceptional quality has led to it being officially classified as a unique category amongst the Sancerre wines. The Domaine de la Moussiere comprises one single vineyard of over thirty hectares. Its ideally exposed location on the south-western tip of Sancerre, its chalk soil and its specific sub-soil are all perfect conditions for the cultivation of the vine. White Sancerre is produced from the noble grape called « Sauvignon », with small, very tightly packed grapes, that is amongst the oldest known varieties.
Sancerre has an eminent position in the hierarchy of white wines thanks to its great finesse, its bouquet and fruitiness. Red and rosé Sancerre are produced from the « Pinot Noir » grape, particularly from the older vines of the 'Vieux Clos Chambrastes'. Legend has it that this vineyard is located on the site of an ancient roman encampment.
Our Selection from Alphonse Mellot: