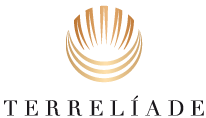 About Terrelíade
The sky is clear and limpid, and the breezes coming off the Strait of Sicily keep the clouds racing. In front of the vineyard lies a natural amphitheatre, several kilometres across, and in the background the white houses of Sambuca, with those of Santa Margherita del Belice further west. Lower down, on the valley floor, is Lago Arancio, a reservoir in the heart of a barren, sun-baked land, which is an oasis for numerous migrant birds. Dozens of hectares of vineyards cover the hillsides, sloping down towards the reservoir, at altitudes from 400 to 200 metres above sea level. It is a green island.
This is Terrelíade, a land dominated by the sun and cooled by the wind even during the most torrid period of the year. The medium-textured clay-rich soil protects the natural balance of the vines, the dry climate keeps diseases at bay, and the wide day-night temperature fluctuations give the grapes unique aromas and flavours. This "unicum" yields very elegant, rich wines, with ripe fruity flavours.
The geometric profile of the new vineyards emerges between the almond and olive groves. The unspoiled natural environment of Western Sicily, which is still little exploited, is ideal for attentive, respectful agriculture, which also looks to the future. This attention is expressed in the growing techniques, pruning and crop thinning, carried out by hand. The most characteristic native grape varieties have been selected, such as Nero d'Avola, Inzolia, and Grillo. They are flanked by international cultivars that have found perfect growing conditions in Sicily, which has become almost their second home: Syrah, Merlot and Chardonnay.
Attention to the future can be seen in the technological choices: a modern cellar, a sort of cathedral where the very latest vinification systems are accompanied by the unhurried tranquillity of barrel ageing; a drip irrigation system with nebulisation of the leaves when summer temperatures become too extreme, preserving the vines and saving precious water. This is deepest Sicily, represented by its iconic product: wine.
Our selection From Terrelíade: